With India facing a third wave, we're all back in our homes for the foreseeable future, relying on mid-morning coffees and takeout dinners to get us through our days. Visiting a restaurant or a cafe for a quick pick-me-up seems a heavy risk at this stage, and most are sticking to their homes, with the occasional guest or a walk to disrupt the monotony of a new work-from-home way of life. With regular chores and younger or older family members to keep us all preoccupied, it's difficult to try out new, healthy recipes when all you really want to do is take a break and scroll mindlessly through the news or social media.
So we've done all the research for you. Here are some (relatively!) healthy snack recipes with a quick prep time to brighten up your hours at home. 
 1) Energy bites
These are little balls of goodness that you can snack on while puzzling over a particularly annoying spreadsheet, and the best part is, they're totally customisable! People roll up balls of cinnamon apple, or an assortment of oats, nuts, and raisins, or even dark chocolate concoctions with some fruit thrown in. Check out this list from Eat This, Not That for a great starter guide to prepping your own energy balls. If you're on a total health kick, matcha pistachio balls or a combination of oats, dates, nuts, and seeds make a great post-meal snack. But if you don't mind a more relaxed approach to snacking, try some white chocolate macadamia nut balls, or anything with a bit of chocolate paired with peanut butter or fruit. All you need is a blender. You can make energy balls in batches, and store them in the freezer.
2) Baked apple chips
If you think apples only make a good snack when paired with peanut butter, you'd be wrong! Apple chips are a great guilt-free snacking option; they're sweet, crispy, and you can perfect the recipe by adding a bit of cinnamon. Pick out a good selection of apples at the local market, slice them thinly, sprinkle on some powdered sugar and cinnamon, and bake! If you'd like to test out the rest of your spice rack for a headier flavour, you can add nutmeg or cardamom too. To make your own apple chips of any variety (Granny Smith or Pink Lady are commonly available), check out this recipe from culinary scientist Jessica Gavin, or this one from Tasty.co, and don't forget the cinnamon!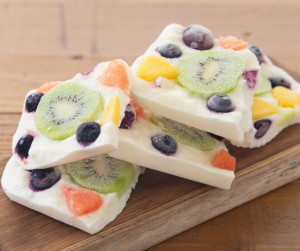 3) Frozen yogurt fruit bark
This snack option is a blessing in disguise if you're a fan of yogurt already, as well as ice cream treats. This is a new, unconventional way to get in your five servings of fruit a day, and all you need is some yogurt and an assortment of fruit. Pick out whatever's seasonal and slice it up. Add two cups of your chopped fruit to yogurt, dab in some vanilla, put it all in a baking tray, and freeze it for a few hours. Here's a recipe from Ciara of myfussyeater.com if you want the specifics. If you're not too fond of plain yogurt, you can always swap it out for some sweeter or flavoured varieties.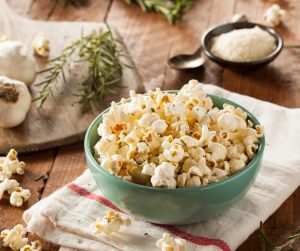 4) Rosemary, garlic, and chilli popcorn
Most of us associate popcorn with overpriced snacking in theatres, but it can be a pretty healthy snack, especially the way BBC Good Food recommends we eat it: hot and flavourful, with chilli and garlic. This is a gluten-free recipe, and won't take you more than a couple of minutes to prep. Just fry some garlic, rosemary, and chilli in oil and let it soak up the flavour. Once you've popped the corn, you can toss it in the oil and then scoop it into a large bowl for a great at-home movie snack. Cheap, healthy, and delicious!

5) Spinach dosa
Dosa is a well-loved dish, but it's always a good idea to change up old recipes and try something new. Have you ever considered a combination of dosa and spinach? Pureed spinach serves as a great base for this dish, and you can throw some mint into the batter as well, for extra flavour. Serve it with the usual sides (sambar and coconut chutney) and you won't miss your plain dosa from your favourite South Indian joint for a moment. This recipe does require some additional prep time, but once you've whipped up the batter, it's easy to make. A great savoury snack for any hour of the day.
Hopefully we've set you up for a great culinary adventure with these easy snack recipes. They all require relatively few ingredients, are easy to customise or substitute with other ingredients, and are delicious and healthy. Get snacking!